MOGADISHU, Somalia – Somaliland, a self-declared state has allegedly taken an oppressive decision to revoke two privately owned TV stations based in Hargeisa.
In a statement, Somaliland Minister of Information Suleiman Yusuf Ali said that Universal TV, a London-based channel and Star TV station were revoked over untold reason.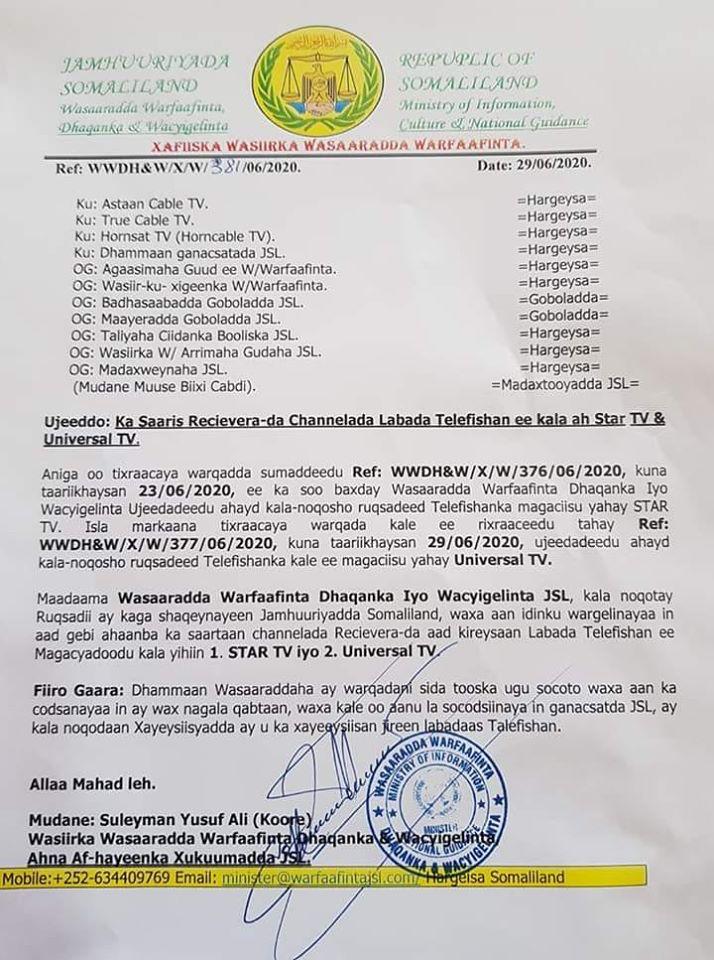 The move came after the TV stations refused to broadcast the speech of Somaliland President Muse Bihi on the night of 26 June, said, in a statement released media rights group.
The decision to shut down the stations also sparked an outcry among media groups, who denounced the ruling made on Monday, 29 June by the Somaliland Ministry of Information.
The group has rejected ruling which it describes as "pure and simple harassment, the seeming coup de grace to the relentless and malicious attacks against media organizations in Somaliland.
Media organisations could be shut down if official directives are ignored, said, a journalist who asked to be anonymous because of reprisal attack on his life.
In statement released by Omar Faruk Osman, NUSOJ Secretary General said on 25 June 2020, Somaliland police shut down Star TV in Hargeisa while ordering all journalists and other staff to leave from the station.
Osman says Somaliland administration is seeking to control information about highly significant events and issues for all Somalis is comparable to the actions of other autocratic administrations.
"Media freedom in Somaliland is in tatters. The excessively harsh and reprehensible manner", he said.