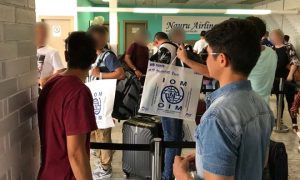 The fourth group of refugees to be accepted for resettlement in the United States from Australia's offshore immigration regime are poised to leave Nauru for the US, via Fiji.
The 22 refugees are all single men except for one Rohingyan man and his wife, according to Ian Rintoul from the Refugee Action Coalition.
It is the second group to leave Nauru under the controversial resettlement program, following two groups that have also been resettled from Australia's detention centre on Manus Island in Papua New Guinea.
The latest cohort will bring the number of refugees resettled in the US to about 110. About 2,000 refugees and asylum seekers remain in Australia's offshore system.
The controversial "US deal" – decried as "dumb" but upheld by the US president Donald Trump – was brokered by his predecessor Barack Obama and the Australian prime minister, Malcolm Turnbull, in September 2016.
In exchange for the US considering to resettle 1,250 refugees from Australia's offshore camps, Australia has agreed to take refugees from US-run refugee camps in Costa Rica. Those refugees are from the violence-plagued northern triangle countries of central America: El Salvador, Guatemala and Honduras.